News & Events
Categories
Recent News

BASEC is a community-centered organization that is a bridge for families between their children and the school experience. It's our priority to keep you connected with our programming, as well as to make opportunities available for you. Below, you can subscribe to our newsletter; view invitations to student performances and shows; and find free resources for educators and parents, like our parent lecture series.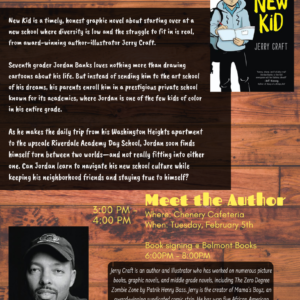 We are excited to announce three "Meet the Author" events happening in the month of February in collaboration with Belmont Books and Chenery Library. The events will be taking place in the Chenery cafeteria from 3:00PM-4:00PM, including books sales and author signings. Below are details about each event, the books, and their authors, as well as pre-order forms from Belmont Books. These pre-sale books will be distributed at the event. Books will also be available for purchase at the event through Belmont Books.
Jerry Craft
– "New Kid": 
https://www.belmontbooks.com/book/9780062691194
Renee Watson & Ellen Hagan
– "Watch Us Rise": 
Read more >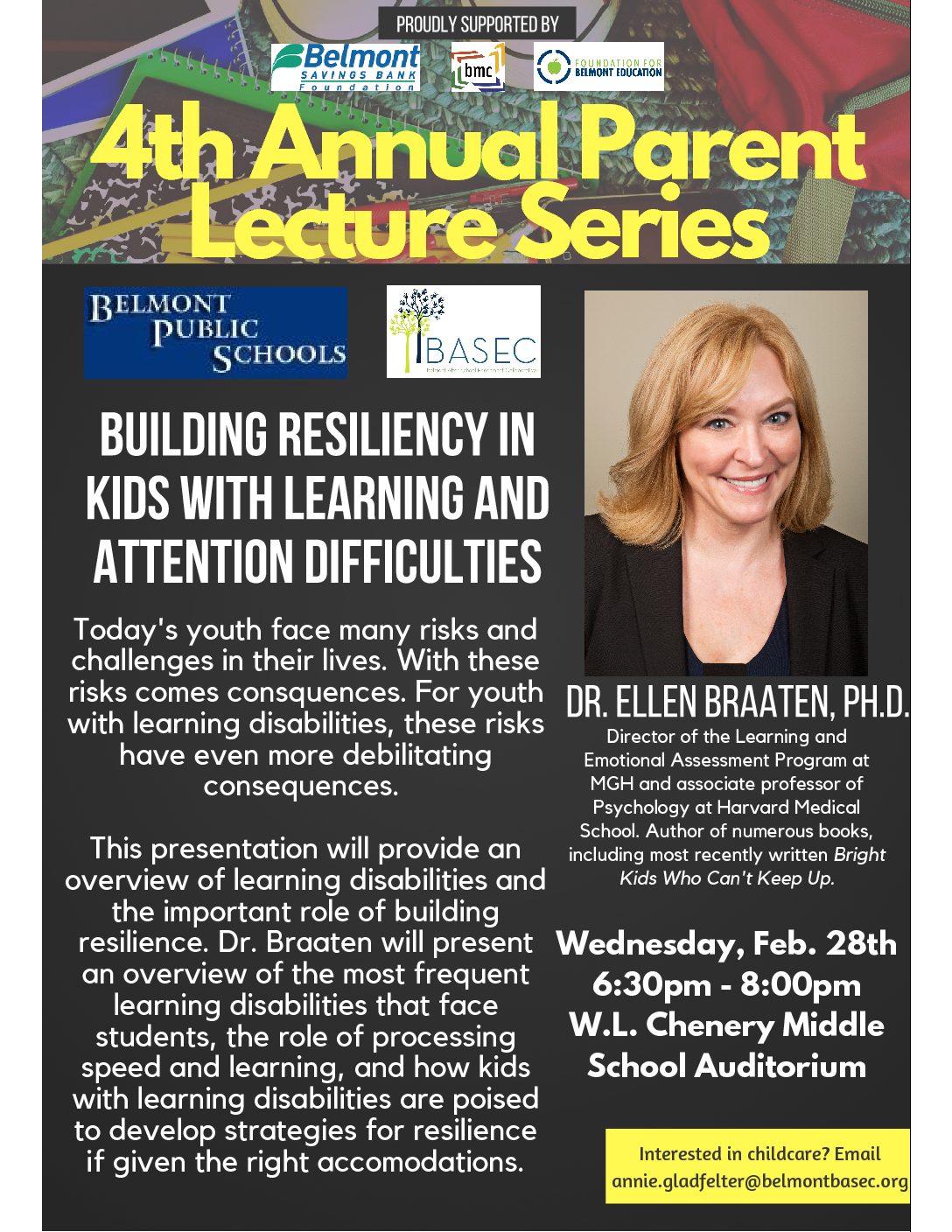 Wednesday, 2/28
6:30 – 8 PM in the Chenery Middle School Auditorium
Dr. Ellen Braatan discusses learning disabilities and the important role of building resilience. Dr. Braaten will present an overview of the most frequent learning disabilities that face students, the role of processing speed and learning, and how kids with learning disabilities are poised to develop strategies for resilience if given the right accommodations.
Read more >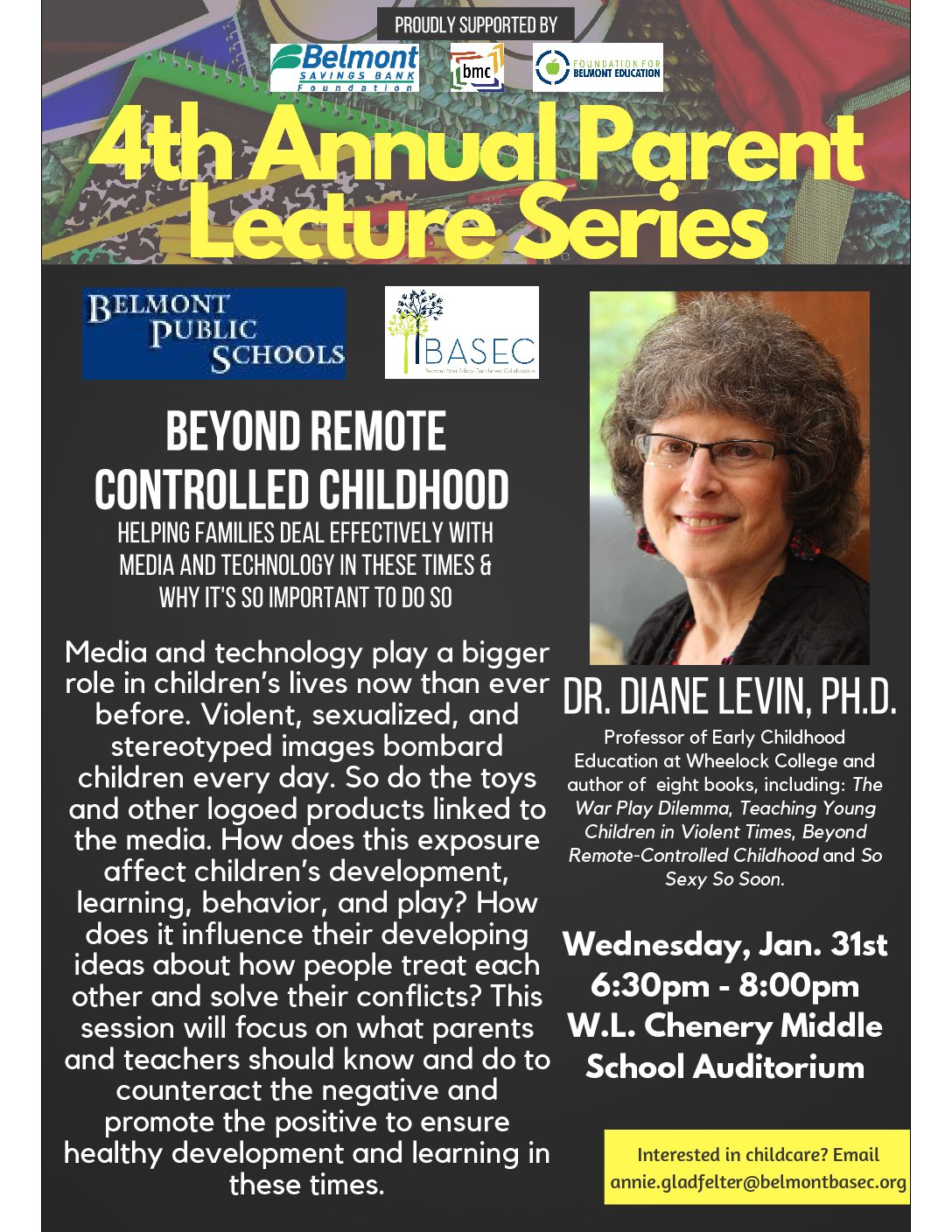 Please join us for Beyond Remote Controlled Childhood; Helping Families Deal Effectively with Media and Technology in these Times and Why It's so Important to do So.
January 31, 2018, 6:30 – 8:00 PM
Chenery Middle School Auditorium
Child care available: annie.gladfelter@belmontbasec.org
Read more >
For 2019, BASEC February Vacation Camp will take place at Chenery Middle School. BASEC April Vacation Camp will take place at Burbank Elementary School. Special thanks to the Belmont Public School administration for the continued partnership!
Read more >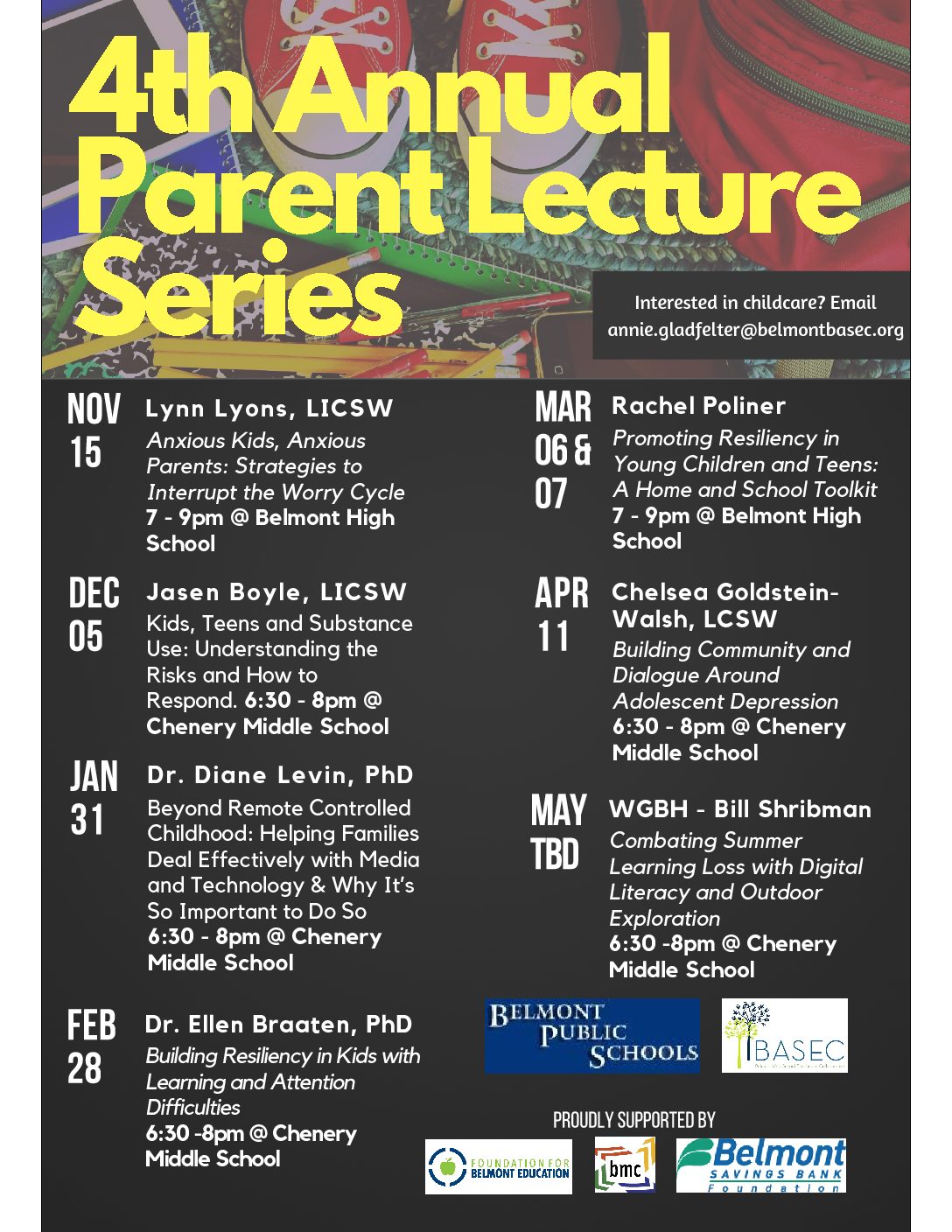 Lynn Lyons: Managing Anxiety at Home and School: Strategies to Interrupt the Worry Cycle
The first in our 2017 – 2018 BPS and BASEC collaborative speaker series. We explore ways to redirect our minds, reducing worry and stress. Please join us for this free event on Wednesday, 11/15/17; 7:00 – 9:00 PM; Belmont High School Theater. Free child care is available.
Special thanks to Belmont Savings Bank for their continued generous support of this project!
Read more >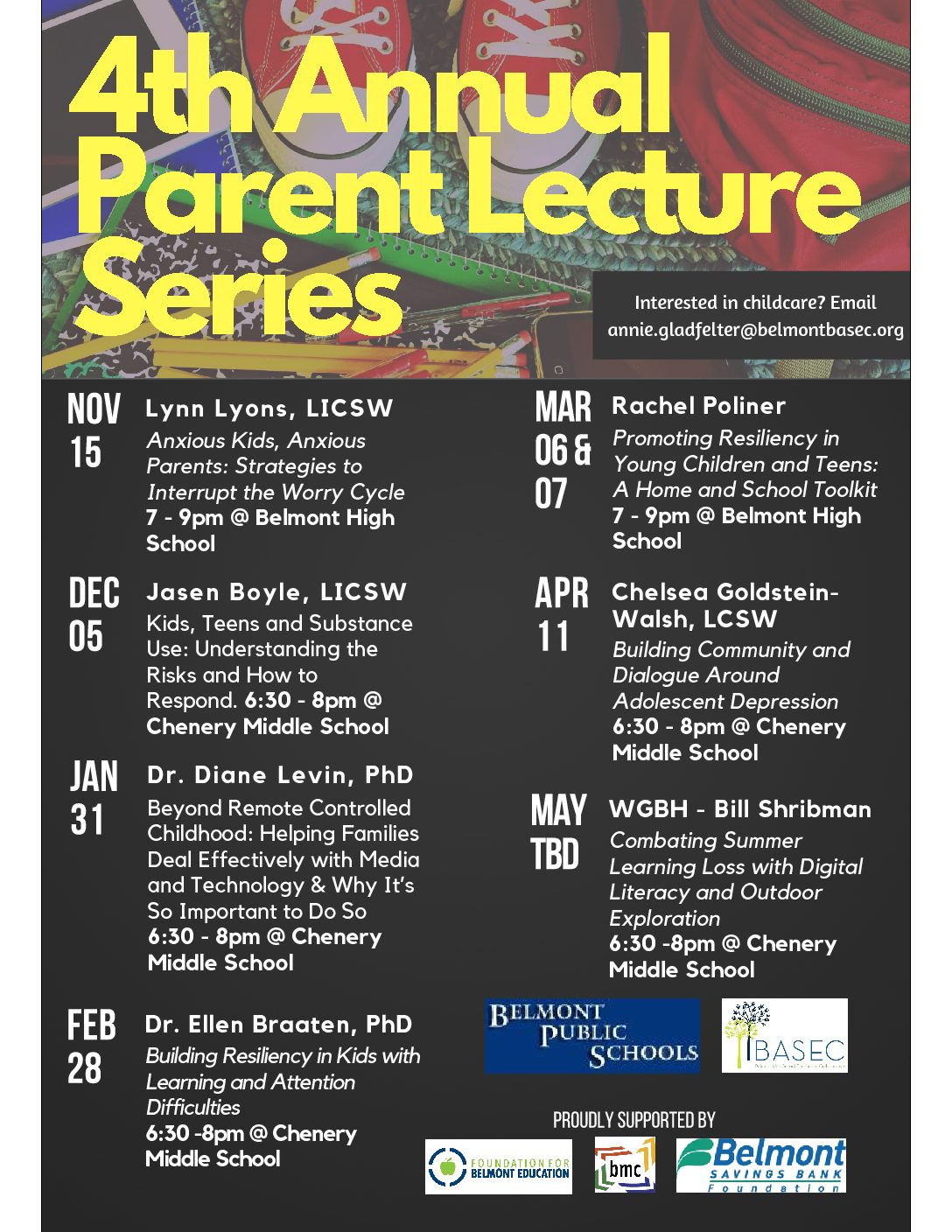 Once again, we extend our gratitude and appreciation to Belmont Savings Bank, which has generously granted funding for our Parent Lecture Series for 2017 – 2018. Thank you from BASEC and from our entire community!
We are thrilled this year to partner with Belmont Public Schools on these constructive and informative lectures and workshops which help us all provide the best possible network of support for our students. We exploring some of the most important developmental research and addressing some of the most pressing issues for our children's success in school and beyond. We look forward to these events and hope [...]
Read more >
« Previous
1
2
3
4
Next »