News & Events
Categories
Events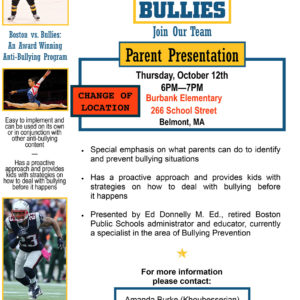 The Sports Museum presents "Boston vs. Bullies".
A special presentation for parents about what parents can do to identify and prevent bullying.
Join us on Thursday, October 12th at Burbank Elementary School from 6:00 PM – 7:00 PM.
For more information please contact Amanda Burke, Inclusion Specialist.
amanda.burke@belmontbasec.org or (617) 484-8030
Read more >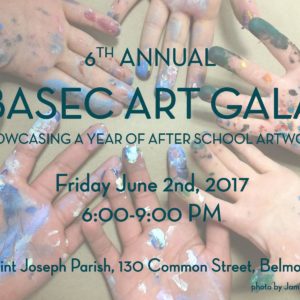 Student artwork, live music, refreshments, and fun!
Friday, June 2, 2017
6:00-9:00 PM
Saint Joseph Parish, 130 Common Street, Belmont
On-site childcare available! RSVP for childcare to burbank@belmontbasec.org
Read more >
This year, our speaker series explored different conversations with our young people that many parents and educators find challenging. We hope that you can join us for one or all of these free events!
Read more >
« Previous
1
2