BASEC Branch
Belmont BASEC at Chenery – Workshops for kids!
BASEC Branch is intentionally designed to meet the needs of our 7th and 8th graders and their families.
We create a positive and supportive environment that motivates students to reach academic goals and take ownership of their learning. Modeled on our BASEC @ BHS program, Branch prepares students for the academic demands of Belmont High School through individualized Executive Function (EF) and content support.
This flexible program opens at the end of the school day and operates until 4:30 PM. Regular after school programming is still available for all families in grades 7 – 8. Branch is an extra benefit for any regularly-enrolled student; families can communicate their participation preference to our BASEC @ Chenery team.
For details about BASEC Branch, please feel free to contact Site Director, Amanda Burke at amanda.burke@belmontbasec.org or Branch Specialist, Sara Doran at sara.doran@belmontbasec.org.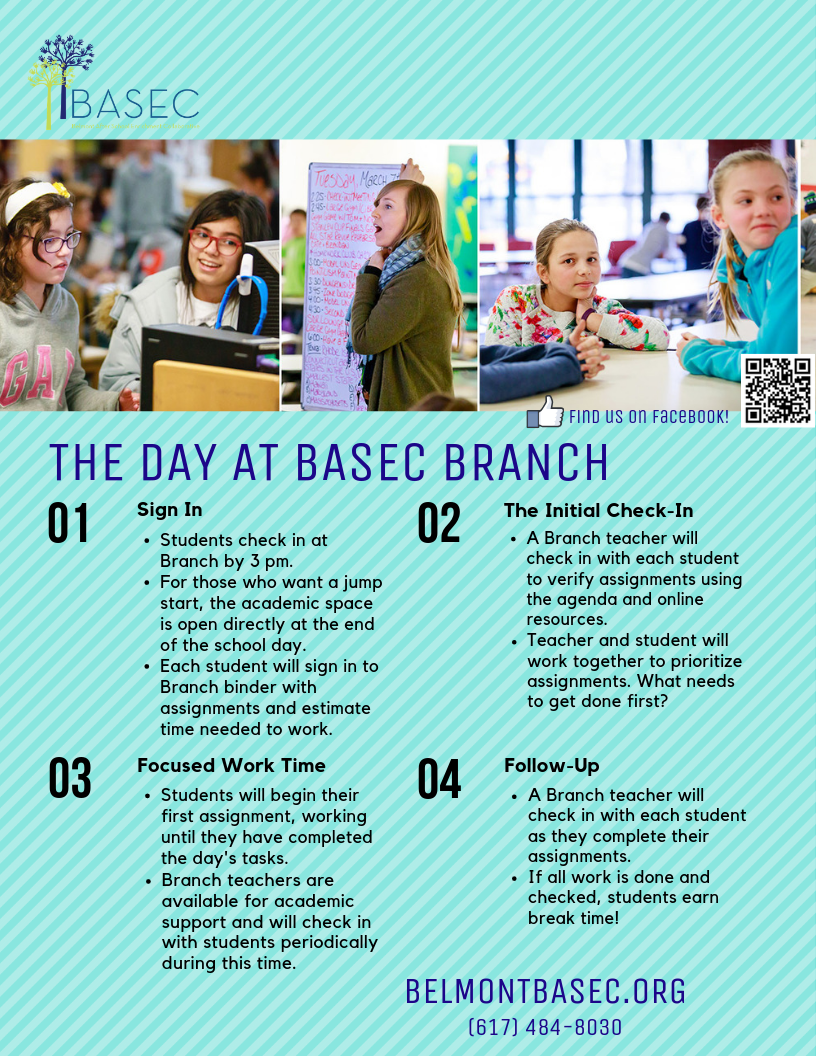 ---
Who can benefit from executive function support? Everyone!
Click on the links below to see sample individualized plans:
Many students enrolled in BASEC's Branch Program are also involved in athletics throughout the school year, both at BASEC and at the town or club level. The Branch Program helps students with athletic commitments by creating individualized plans catering to each student's schedule. These plans are also based on an executive function evaluation, and address student-specific academic strengths and challenges. Each student's individual plan will focus on supporting them to make the most efficient use of their after-school time, given that some of their afternoon will be spent with athletics. For students who participate in athletics at BASEC, we will work with our athletic director to come up with a plan to best support your student.
Branch is not only designed for students who need help managing academics and after school responsibilities, it is also a great workspace for students who already have many of the work habits and organizational skills that are essential to academic success. The Branch Program provides a quiet workspace where students can develop a consistent work routine after school. Students will also have access to resources that they would not have at home in Branch teachers as well as school day teachers that may host homework clubs or offer other after school support.
Much like how Branch can help student athletes manage their demanding after school schedules, the program also caters to students with other after school responsibilities such as music and PTO clubs. With the help of their parents, a number of students are able to manage the demands of both school and extracurricular activities. With a constantly increasing workload, managing these commitments can be overwhelming. Branch promotes managing these activities independently, taking much of the scheduling burden off parents, while providing individualized academic support in a range of executive function skills.
Studious, but disorganized student
For many middle schoolers, deficiencies in executive functioning skills have yet to negatively impact their academics. Branch helps address struggles with executive functioning skills like organization before curriculum content becomes challenging.
Disorganized and in need of academic support
The framework that informs our Branch programming is based on is promoting skills that fall under the category of Executive Functioning. These skills include organization, planning, focus, time management, and managing transitions. We have found that executive function skills become significantly more important as students approach high school, and are sometimes overlooked as school day teachers prioritize preparing students for content relating to exams and standardized tests. At Branch, we work with students and parents to coordinate an individualized plan that caters to each student's strengths and challenges in regards to this skill set.