Vacation Camp Field Trips
Friday of each BASEC Vacation Program week is a field trip day. We are so lucky to live in such close proximity to these amazing resources! Our field trips are always a highlight of the week!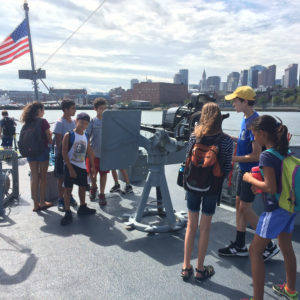 This year, we are again utilizing Eastern Bus Company for each of our field trips. Typically, we conduct check-in on Friday at our regular time and leave on the buses between 9:00 – 9:30 AM. We return at approximately 4:30 PM for February and April weeks and at approximately 5:00 PM for summer weeks.
2019 Field Trips
February 22: Younger Group: Cowabunga's; Older Group: Apex Entertainment Center.
April 19: Wheelock Dining Hall for lunch (BASEC provided); James and the Giant Peach at Wheelock Family Theater.
June 28: Castle Island, Boston, MA
July 5: Camp Closed for Independence Day Holiday (Camp week Monday – Wednesday only).
July 12: Stage Fort Park, Gloucester.
July 19: Blue Hills Reservation and Stoughton Pond, Milton.
July 26: Canobie Lake Park, Salem, NH.
August 2: Georges Island, Boston Harbor. (Includes ferry transportation)
August 9: Stage Fort Park, Gloucester.
August 16: Canobie Lake Park, Salem, NH
August 23: Southwick Zoo, Mendon.
August 31: Water Country, Portsmouth, NH.
All BASEC campers attend field trips for each camp week. We do not keep a group in Belmont for those Fridays.